BIOHAZARD Marhawa Desire
Comments

0
9,041articles on
this wiki
BIOHAZARD Marahawa Desire (バイオハザード・マルハワデザイア?) is a graphic novel and manga series[notes 1] to be released on the Weekly Shōnen Champion. The company Japonica Polonica Fantastica translated the first volume into Polish.
Marhawa Desire is set in Singapore and Tropical Forest of Asia during the BSAA's investigation of a viral outbreak at the prestigious Marhawa School. This comics marks the debut of Piers Nivans, who appears in Resident Evil 6 as Chris Redfield's new partner.
Marhawa's Report
Edit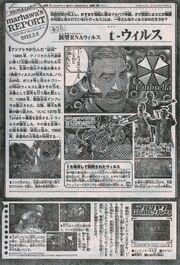 Each chapter features reports on the series backstory, written entirely in Hanzi (Chinese script) to replicate the story's setting in Singapore as though it were a Chinese newspaper service.
↑

The difference between a graphic novel and a comic/manga is that the entire storyline is in the graphic novel, whereas the manga is an issue or collection of issues
References
Edit