Resident Evil: Retribution
Comments

0
10,209articles on
this wiki
"The Ultimate Battle Begins"
— Film tagline.
Resident Evil: Retribution is a 3D science-fiction action film written and directed by Paul W. S. Anderson. It is the fifth installment in a series of film adaptations based loosely on Capcom's survival horror video game series Resident Evil and the third film to be directed by Anderson. Filming took place from October to December 2011 for a scheduled release date of September 14, 2012,[1] following the box-office success of Resident Evil: Afterlife. The film has been given an R rating.
The official Resident Evil: Retribution Facebook page validated the Internet Movie Database's (IMDb) cast list for the film.[2] Nemesiscvx from Ultimate-re has posted extra actors and characters that will be in the film. [1]
Soundtrack
Edit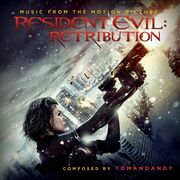 Resident Evil: Retribution (Music from the Motion Picture) features the film's original score composed largely by tomandandy, who previously produced the score to Resident Evil: Afterlife. Along with tomandandy is the electronic artist, Bassnectar, who composed the film's end credits song, "Hexes", which features the voice of Chino Moreno of Deftones fame.[3] The soundtrack was released on September 11, 2012. The song titled "Tokyo Revisited" plays on the film's official website.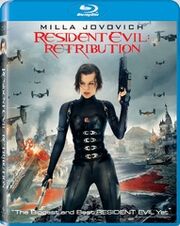 Sony Pictures Home Entertainment has announced DVD, Blu-ray, and 3D Blu-ray releases of Resident Evil: Retribution for December 21. Extras on the DVD will include commentary with Writer/Director Paul W.S. Anderson, Milla Jovovich and Boris Kodjoe, a second commentary with Writer/Director Paul W.S. Anderson and Producer Jeremy Bolt. featurettes ("Drop (Un) Dead: The Creatures of Retribution", "Retribution - Face of the Fan", "Retribution Soundtrack"), and outtakes. The Blu-ray releases will also include Deleted and Extended Scenes, Project Alice: The Interactive Database, and additional featurettes ("Evolving Alice", "Resident Evil: Reunion", "Into the Lion's Den", "Resident Stuntman", "Maestro of Evil: Directing Resident Evil: Retribution").[4]
Director Paul W.S. Anderson stated in an interview that their original plan was to produce Retribution and a sixth installment back-to-back, but he later decided to focus on just the fifth film. In the same interview, Anderson stated that if Retribution does well financially, then a sixth film would be developed and it will be the finale of the series.[5] Milla Jovovich revealed that she is planning to star in a sixth and final installment of the franchise which will close out the series' storyline. Her husband, Anderson, pitched her the idea while vacationing following wrapping the fifth film and that the series would most likely continue past a sixth film, just not with her as the star. A sixth film was confirmed by Sony distribution's head Rory Bruer. In an interview with Forbes, producer Samuel Hadida stated that a sixth and seventh installment are planned and a reboot of the series is possible.
External links
Edit
Resident Evil: Retribution, on Facebook.--> (All about the progress of the movie)
(From The Internet Movie Data Base)