"Biohazard 7: Resident Evil" X "TGI Fridays" Collaboration (『バイオハザード7 レジデント イービル』 ×「TGI FRIDAYS」コラボレーション , "Baiohazādo 7 rejidento ībiru" × `TGI FRIDAYS' koraborēshon?) is a collaboration between Capcom and TGI Fridays to sell drinks with Resident Evil themed names in order to advertise Resident Evil 7: Biohazard in Japan. It will last from January 23–12 February 2017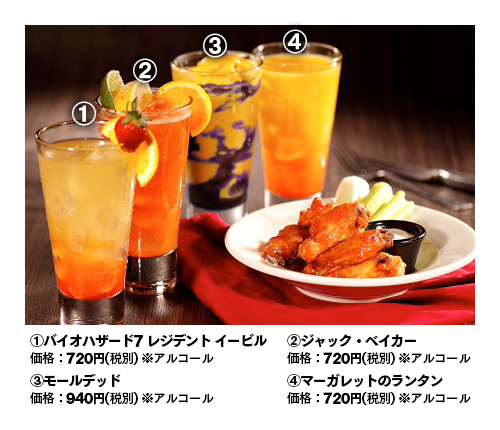 "BIOHAZARD7 resident evil"
"Jack Baker"
"Molded"
"Margerite's Lantern"
External links
Edit
Ad blocker interference detected!
Wikia is a free-to-use site that makes money from advertising. We have a modified experience for viewers using ad blockers

Wikia is not accessible if you've made further modifications. Remove the custom ad blocker rule(s) and the page will load as expected.