Minor universe
(Covers information within Pocket realities)
777 RC-Radio was one of Raccoon City's numerous radio stations. Their last broadcasts contained news such as the law enforcement collapsing; meaning that the citizens would have to make their own way out. During the last hours, they were surrounded by zombies and possibly other creatures. No doubt attracted by the fact that it would have been one of few places left with people in. Despite this, they continued broadcasting. Near the end of the transmission, the DJ began laughing maniacally while making his broadcast, implying he may not have been able to handle what was happening, and progressively went insane.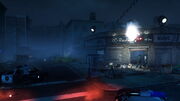 Ad blocker interference detected!
Wikia is a free-to-use site that makes money from advertising. We have a modified experience for viewers using ad blockers

Wikia is not accessible if you've made further modifications. Remove the custom ad blocker rule(s) and the page will load as expected.