Ad blocker interference detected!
Wikia is a free-to-use site that makes money from advertising. We have a modified experience for viewers using ad blockers

Wikia is not accessible if you've made further modifications. Remove the custom ad blocker rule(s) and the page will load as expected.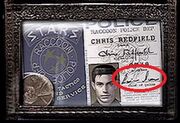 A sneaky appearance by Chief Irons! is an article in Resident Evil Recollections. It was uploaded on 25 November 2014.
Transcript
If you look closely at Chris' and Jill's ID cards on the character selection screen, you'll notice they're signed by none other than R.P.D.
Chief of Police Brian Irons, a character who doesn't even show up in the game!

He might have been two-timing the force, but it looks like he was at least handling the paperwork correctly...
External links
Recollections articles

2014 Articles
2015 Articles
2016 Articles
Unsorted