Agent Hunt
or
Agent Hunt Mode
is a multiplayer game mode in
Resident Evil 6
. It is unlocked by beating the game under any of the three starting campaigns.
Gameplay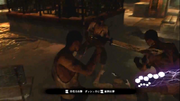 Agent Hunt
will place players in the role of creatures found in Resident Evil 6 and put them with other AI-controlled creatures to fight against human players. However, there is a twist -
Agent Hunt
will actually make players monsters found in a player's current campaign gameplay.
[1]
Players will be able to team up with one other partner and will have access to a voice-chat to allow them to coordinate their attacks against the unsuspecting players of the main cast.
While playing Agent Hunt, players will be put into the role of zombies and J'avo and possibly creatures much worse. Upon death, the player will respawn as another creature and be allowed to continue menacing their enemies. The extent of the creatures a player can control is unknown at the time. [notes 1] When playing a campaign, players will have the option as to whether they will allow Agent Hunt to invade their game or not[2] and will be notified when another human player enters their game as an enemy, but will not be told what enemy.
The strength, speed and stamina of the creatures that hunters control vary depending on the current campaign's selected difficulty; For instance, players inflict more damage on the agents if the agent players have selected Veteran or Professional difficulty.
Playable Creatures
Machete J'avo -

As a machete-wielding J'avo, players will have to get up-close and personal with their targets, utilizing the same basic moveset found in the same AI-controlled enemy. They are able to utilize a simple slash attack that can make small combos, as well as a heavily orchestrated spinning machete attack.
Neo-Umbrella J'avo - With this J'avo you can get up-close and personal with your targets by running up to agents and stunning them with your wrist blades, or even killing them when they are wounded or are incapacitated on the floor.
Gallery
Sources
Notes
↑

Just as enemies vary depending on the location in the campaign, it stands to reason the creatures one can play as will change depending on where their victims are in the campaign as well.
References