DeCandido universe
(DeCandido's novelizations of the Anderson films)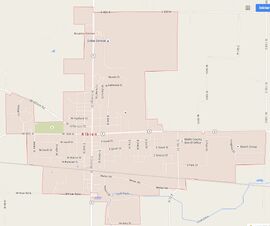 Albion, Indiana is a town in the US state of Indiana. In the early days of the global T-virus pandemic, the town was completely abandoned. This proved to be an inconvenience for Alice Abernathy when she needed fuel from the local Enco station on her journey on the I-94 from Gary to the Umbrella-controlled Detroit, Michigan.[1]
Gallery
| | |
| --- | --- |
| | This section is empty. You can help out the Resident Evil Wiki by adding to it. (May 2018) |
Sources
↑ DeCandido, Extinction, Chapter Fifteen.
DeCandido continuity locations

Regions
Settlements

Albion, Indiana

·

Athens, Georgia

·

Bakersfield, California

·

Baltimore, Maryland

·

Boise, Idaho

·

Detroit, Michigan‏‎

·

Foxwood Heights

·

Gary, Indiana

·

Kettleman Station, California

·

Las Vegas, Nevada‏‎

·

Lebec, California

·

Maplewood, New Jersey‏‎

·

Pahrump, Nevada

·

Virginia Beach, Virginia

·

Washington, D.C.

·

West Lafayette, Indiana

Buildings