Ad blocker interference detected!
Wikia is a free-to-use site that makes money from advertising. We have a modified experience for viewers using ad blockers

Wikia is not accessible if you've made further modifications. Remove the custom ad blocker rule(s) and the page will load as expected.

DeCandido universe
(DeCandido's novelizations of Anderson's Films)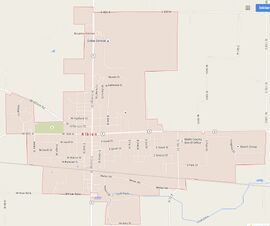 Albion, Indiana is a town in the US state of Indiana. In the early days of the global T-virus pandemic, the town was completely abandoned. This proved to be an inconvenience for Alice Abernathy when she needed fuel from the local Enco station on her journey on the I-94 from Gary to the Umbrella-controlled Detroit, Michigan.[1]
Gallery
Sources
↑ DeCandido, Extinction, Chapter Fifteen.
DeCandido continuity locations

Regions
Settlements

Albion, Indiana

·

Athens, Georgia

·

Bakersfield, California

·

Baltimore, Maryland

·

Boise, Idaho

·

Detroit, Michigan‏‎

·

Foxwood Heights

·

Gary, Indiana

·

Kettleman Station, California

·

Las Vegas, Nevada‏‎

·

Lebec, California

·

Maplewood, New Jersey‏‎

·

Pahrump, Nevada

·

Virginia Beach, Virginia

·

Washington, D.C.

·

West Lafayette, Indiana

Buildings