Mainstream universe
(Capcom's primary storyline)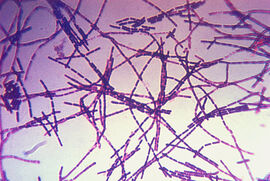 Anthrax is a common name for the bacteria, Bacillus anthracis as well as the disease caused by it. It was described in a lecture by Professor Doug Wright on the use of viral and bacterial agents in bioterrorism.[1]
↑ Resident Evil: The Marhawa Desire, Vol 1 Issue 1: "Academy of Tragedy"
Ad blocker interference detected!
Wikia is a free-to-use site that makes money from advertising. We have a modified experience for viewers using ad blockers

Wikia is not accessible if you've made further modifications. Remove the custom ad blocker rule(s) and the page will load as expected.