Ad blocker interference detected!
Wikia is a free-to-use site that makes money from advertising. We have a modified experience for viewers using ad blockers

Wikia is not accessible if you've made further modifications. Remove the custom ad blocker rule(s) and the page will load as expected.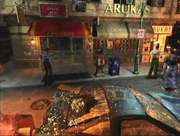 Arukas was a tailor shop in Raccoon City. Some time during the infamous Raccoon City Destruction Incident, Ben Bertolucci photographed the corpse of a zombie outside of this shop.[1]
Further notes
Spelled backwards, it reads Sakura, a reference to "Sakura Kasugano", a character in Capcom's Street Fighter series.[2]
Bibliography
Sources
↑ Resident Evil 2 (1998), file: "Film B"
↑ Saitō, Ayumi (ed.), Research, p.186