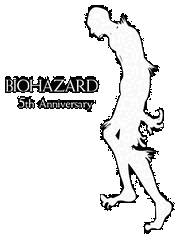 BIOHAZARD 5th Anniversary was an event celebrated by Capcom in 2001 in commemoration of the fifth anniversary of Resident Evil's original release.
List of merchandise
Edit
Resident Evil - Ubisoft released a "special edition" PC port for the game in Hong Kong.[2]
External links
Edit
↑ BioHazard CODE:Veronica Infants Music Box (バイオハザードコード:ベロニカ オルゴールアシュフォード). residentevilcollectors.com. Retrieved on 2012-11-03.
↑ Resident Evil 1 Ubisoft China 5th Anniversary Special Edition. Resident Evil Collectors. Retrieved on 2013-07-10.
↑ BIOHAZARD 5th Anniversary Chrome Zippo. Resident Evil Collectors. Retrieved on 2014-01-15.
Ad blocker interference detected!
Wikia is a free-to-use site that makes money from advertising. We have a modified experience for viewers using ad blockers

Wikia is not accessible if you've made further modifications. Remove the custom ad blocker rule(s) and the page will load as expected.