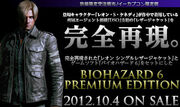 The BIOHAZARD 6 PREMIUM EDITION is a collector's version of Resident Evil 6 due to come on sale in Japan on October 4, 2012.[1] It comes with a replica of Leon S. Kennedy's leather jacket, in four standard sizes (S - XL). The price of this edition is at ¥105,000 (some $1,300 USD, 992€, £815,22 GBP ).
It also includes a copy of the game and 4 different covers of it with: Chris Redfield, Leon S. Kennedy, Jake Muller, and a mysterious fourth character,[2] speculated to be Ada Wong.
Ad blocker interference detected!
Wikia is a free-to-use site that makes money from advertising. We have a modified experience for viewers using ad blockers

Wikia is not accessible if you've made further modifications. Remove the custom ad blocker rule(s) and the page will load as expected.