Ad blocker interference detected!
Wikia is a free-to-use site that makes money from advertising. We have a modified experience for viewers using ad blockers

Wikia is not accessible if you've made further modifications. Remove the custom ad blocker rule(s) and the page will load as expected.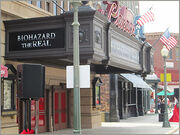 BIOHAZARD THE REAL (バイオハザード・ザ・リアル, Baiohazādo za Riaru?) was a screampark attraction at Universal Studios Japan, open from July to October, 2013. It was located within the Palace Theater in a section of the park with a New York-theme.
Background
The press was invited to the attraction the day before public opening (July 18) to experience the park. The official Resident Evil fanclub, CLUB96, attended with a competition winner.
Attractions
Sources
↑ 『バイオハザード・ザ・リアル』体験レポート. CLUB96. Retrieved on 2014-09-02.
Resident Evil attractions
Japanese events

BIOHAZARD Nightmare

(Osaka, 1998-1999) ·

BIOHAZARD MIDNIGHT PARTY

(Tokyo, 1998) ·

Bioroid: Year Zero

(2000) ·

BIOHAZARD MUSEUM

(Kitakyūshū, 2001) ·

BIOHAZARD Nightmare

(Saitama, 2001) ·

Shock Labyrinth EX. × biohazard

(2007-2008) ·

Biohazard Cafe & Grill S.T.A.R.S.

(Tokyo, 2012-2013) ·

BIOHAZARD FESTIVAL

(Tokyo, 2013) ·

BIOHAZARD THE REAL

(Oksaka, 2013) ·

‎BIOHAZARD X Kawaba SURVIVAL GAME FIELD

(Gunma, 2014) ·

BIOHAZARD THE REAL 2

(Osaka, 2014) ·

BIOHAZARD THE ESCAPE

(2015) ·

BIOHAZARD THE REAL 3

(Osaka, 2015) ·

BIOHAZARD THE STAGE

(Tokyo, 2015) ·

SURVIVE of BIOHAZARD

(Sagamihara, 2016) ·

BIOHAZARD THE ESCAPE 2

(2016)

American events
Game shows