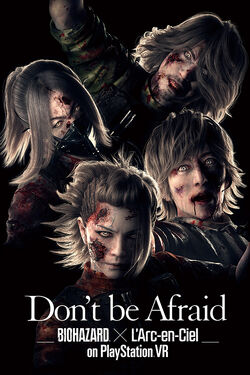 BIOHAZARD X L'Arc-en-Ciel is a promotional event managed by Capcom; Ki/oon Music and Sony Interactive Entertainment, Inc. The result is a special music video to the J-Rock band L'Arc-en-Ciel song "Don't be Afraid" to celebrate the band's 25th anniversary.
Promotion
Edit
The music video features a CGI version the band wearing Resident Evil-themed costumes. Like Resident Evil 7: Biohazard and Resident Evil: Umbrella Corps, the CGI uses the Photogrammetry technique. Interactivity in the video is possible for viewers of the PlayStation VR version, allowing a 360 degree look at the video.
External links
Edit
Ad blocker interference detected!
Wikia is a free-to-use site that makes money from advertising. We have a modified experience for viewers using ad blockers

Wikia is not accessible if you've made further modifications. Remove the custom ad blocker rule(s) and the page will load as expected.