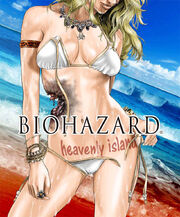 BIOHAZARD heavenly island (バイオハザード〜ヘヴンリーアイランド) is an ongoing manga series published in Weekly Shonen Champion. A tie-in to Resident Evil: Revelations 2  and Umbrella Corps but set after the events of Resident Evil 6, the manga is written by Naoki Serizawa, who wrote Resident Evil: The Marhawa Desire for the weekly magazine as well.[1]
The first Takoban volume was released on March 6, 2015. The Japanese version of Resident Evil Zero's HD Remaster also included a T-shirt for Rebecca Chambers that was meant to promote the manga series.

A popular TV program called Idol Survival where Gravure idol compete in various competitions in swimsuit, decided to travel to an island in South America to begin filming. At the same time, TerraSave sends Claire Redfield and Inéz Diaco to the scene to investigate related to biological hazard, arriving events you will find biological weapons and the island is the starting point for a new outbreak. Now she, her colleagues, and all the participants are in great danger.
↑ Un nouveau manga Resident Evil actuellement en préparation

(French)

. Japan-Touch. Retrieved on 2014-09-09.
Ad blocker interference detected!
Wikia is a free-to-use site that makes money from advertising. We have a modified experience for viewers using ad blockers

Wikia is not accessible if you've made further modifications. Remove the custom ad blocker rule(s) and the page will load as expected.