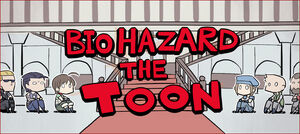 BIOHAZARD the Toon (バイオ4コマまんが「BIOHAZARD THE TOON」, Baio 4koma manga 'BIOHAZARD THE TOON'?, lit. Bio 4 Panel Comic "Biohazard the Toon") is a web comic published in CLUB96.
The webcomic features a humorous take on the RE series in "4koma" format (four panels one over the other). The comic features English as the written language inside the comic itself with Japanese language text outside, emulating how early games in the series exclusively featured English voice over even in the Japanese versions.
Ad blocker interference detected!
Wikia is a free-to-use site that makes money from advertising. We have a modified experience for viewers using ad blockers

Wikia is not accessible if you've made further modifications. Remove the custom ad blocker rule(s) and the page will load as expected.