BIO HAZARD ~Makoba Village Tragedy~ SOUND DRAMA (バイオハザード ~マコバヴィレッジの惨劇~, Baiohazādo ~ makoba virejji no sangeki ~ ?) is a radio play written by Sadayuki Murai (村井 さだゆき). It was produced by Sony Records with a catalogue of SRCL-4181.[2][3] Its story serves as a prelude to the events of the first Resident Evil game.
Makoba Village is located in the American midwest some 40 km north-west of Raccoon City, at the northernmost point of the Arklay Mountains. It is a small village, making up a population of fifty living in a dozen houses. The village is isolated from the rest of the United States, with its houses being dilapidated.
The recent murders in the Arklays forces S.T.A.R.S. officer Jill Valentine to report back for duty mid-vacation. On her way back, she is involved in a collision with a runaway car soon discovered to be carrying the corpse of its driver, who appears to have been mauled by some animal.
Full English Translation Here:
☀
http://www.crimson-head.com/machova-village-tragedy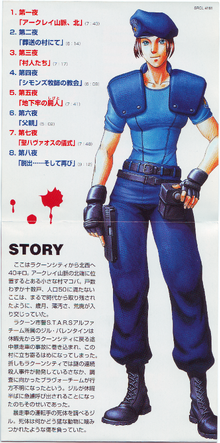 ストーリー
---
ここはラクーンシティから北西へ40キロ。
アークレイ山脈の北端に位置するとある小さな村マコバ。
戸数わずか十数戸、人口50に満たないここは、まるで時代から取わ残されたように、歳月、薄汚さ、荒廃が入り交じっていた。
ラクーン市警S.T.A.R.Sアルファチーム所属のジル·バレンタインは休暇先らラクーンシティに戻る途中暴走車の事故に巻き込まれ、この村に立ち寄るはめになってしまった。
折しもラクーンシティでは謎の連続殺人事件が勃発しているさなか、 調査に向かったブラヴォーチームが行方不明になったという。
ジルが休暇半ばに急遽呼び出されることになったのもそのせいであった。
暴走車の運転手の死体を調べるジル。
死体は何かどう捨な動物に噛みつかれたような傷を負っていた。
Tracklist
Edit
No.
Title
Length
1.

"First Night: "Arklay Mountain Range, North""

(Dai ichi-yo 'ākurei sanmyaku, kita' (

第一夜「アークレイ山脈、 北」

))
07:43
2.

"Second Night: "Attending a funeral in the village""

(Dai ni-yo 'sōsō no mura nite' (

第二夜「葬送の村にて」

))
06:14
3.

"Third Night: "Villagers""

(Dai san-yo 'murabito-tachi' (

第三夜「村人たち」

))
07:19
4.

"Fourth Night: "Pastor Simmons's Church""

(Dai shi-yo 'shimonzu bokushi no kyōkai' (

第四夜「シモンズ牧師の教会」

))
06:09
5.

"Fifth Night: "Zombies in the Prison""

(Dai go-yo 'chika rō no shinin shi bito' (

第五夜「地下牢の屍人しびと」

))
07:41
6.

"Sixth Night: "Father""

(Dai roku-yo 'chichioya' (

第六夜「父親」

))
05:03
7.

"Seventh Night: "Ceremony of Saint Harvos""

(Dai nana-yo 'Sei havu~aosu no gishiki' (

第七夜「聖ハヴァオスの儀式」

))
07:48
8.

"Eighth Night: "The Escape ... And, Again""

(Dai hachi-yo 'dasshutsu… soshite futatabi' (

第八夜「脱出…そして再び」

))
09:12
Screenplay: Sadayuki Murai (村井さだゆき)
Director: Tsukasa Satō (佐藤 司)
Music: Yoshiyuki Itō (伊藤 よしゆき)
Sound: Tomizawa Yoshikō (富沢淑光), Fuyuhei Ozawa (小沢冬平)
Effects:

Sound Art: Ken Nakamoto (中本 健), Yoshihiko Maki (牧頼能彦)
Systema Artista: Ishiwatari Jin (石渡 仁), Masato Ishiwatari (石渡正人), Satoshi Katsumata (勝俣 きさとし)

Sound Producer: Tsukasa Satō (佐藤 司)
Producer: Satoru Kadowaki (門脇 覚)
Director: Jun Kanemaru (金丸 潤)
Mastering Engineer: Toshiya Horiuchi (堀内寿哉)
Art Direction & Design: Etsuko Oka (岡 悦子)
Coordination: Miki Shirono (城野美貴), Terumi Katō (加藤照美)
Promotion: Arika Maruta (丸田 彰), Yūji Murase (村瀬雄司)
Special Thanks to: Mareo Yamada (山田まれお), Toshiaki Nakazawa (中沢敏明), Hiroshi Nishimura (西村大志), Takami Suzuki (鈴木隆美), Toshi Watanabe (渡部寿)
↑ バイオハザード~マコバヴィレッジの惨劇~: 音楽

(Japanese)

. amazon.co.jp. Retrieved on 2013-03-13.