"A small key with a tag attached to it. It says "Backdoor" on the tag."
— Item examination
The Warehouse Key (倉庫のカギ, Sōko no kagi?) is a key item in Resident Evil 3: Nemesis. After checking, the name of this key changes to "Backdoor Key".
Purpose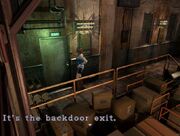 The door, that can be opened by this key is the door in the Warehouse, that leads to the Passage to Warehouse.[1] While this door is closed, the message it reads is "It's the backdoor exit. It's locked".
After opening the backdoor of the warehouse, the key can be discarded, when Jill is asked about it by system message.
Location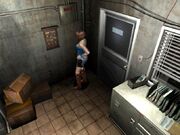 It can be found in the Warehouse,[1] hanging on the wall next to the door.
Bibliography
Birlew, Dan; Frost, Stephen (2003). Davis, H. Leigh. ed. Resident Evil 2 & 3 Official Strategy Guide. Indianapolis: BradyGames.

 
Sources