"A uniform with my favourite player's number on it. Damn. That's nice. "
— Jim Chapman, upon examining this item.
The
Basketball Uniform
is an unlockable costume for
Jim Chapman
in
Resident Evil Outbreak
.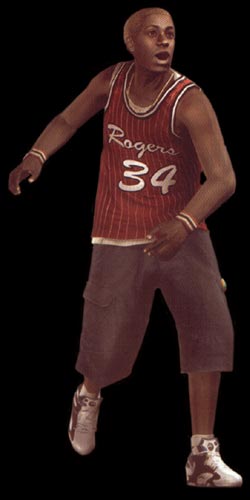 The item with the same name (憧れのユニホーム, Akogareno yunihōmu?, Longing Uniform) is found in the Room 302, on the left bed. It is found in The Hive scenario on paths A and B.
To use this outfit, the player must first find the following special items, and then purchase it for 10.000 points (1.000 in File #2.) In File #2, the costume is already unlocked, and can be purchased without points by using the Data Convert option.
| | | | |
| --- | --- | --- | --- |
| Item Name | Scenario | Room Location | Difficulty |
| White Tanktop | Outbreak | Locker Room, inside the second locker in the left row. | Easy and Normal, paths A and B. |
| Rare Shoes | Below Freezing Point | Duct, on the corner of the railing near the door and the typewriter. | Hard and Very Hard, paths C and D. |
| Basketball Uniform | The Hive | Room 302, on the left bed. | Easy and Normal, paths A and B. |
| Baggy shorts | Hellfire | Linen Room, on the shelf with a Blue Herb. | Easy and Normal, paths A and B. |
| Signed Basketball | Decisions, Decisions | Store Room, inside one of the broken lockers. | Hard and Very Hard, paths C and D. |