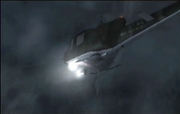 The S.T.A.R.S. unit was provided with two Bell 204B/UH-1 transport helicopters, due to their standing as Raccoon City's primary armed response team, and the fact that the city itself is almost entirely surrounded by mountainous terrain.These helicopters are equipped with searchlights and have S.T.A.R.S. symbols all around it along with a camouflage paint job. As the S.T.A.R.S. team photograph clearly depicts the Eurocopter AS350B in the background, rather than either of the dedicated S.T.A.R.S. Bell 204B/UH-1 models. It is possible this helicopter was used by the team before the purchase of the second and third units. UH-1 helicopters were also dispatched by the U.S. government to support agent Leon S. Kennedy during the Los Illuminados incident in Spain. The First Chopper was shot down by the organization before reaching Leon. The Second, a UH-1N Twin Huey gunship, piloted by Mike did meet up with Agent Kennedy during his island assault and provided crucial fire-support against Militia target, before it also was felled by rocket attacks from Los Illuminados. Mike's Huey's armor had been reinforced with enough armor to knock over a tower without damage, as evidenced by its introduction. A third Huey was sent by an unidentified organization to retrieve Ada Wong and a sample of the Plaga parasite following the Death of Osmond Saddler.
Ad blocker interference detected!
Wikia is a free-to-use site that makes money from advertising. We have a modified experience for viewers using ad blockers

Wikia is not accessible if you've made further modifications. Remove the custom ad blocker rule(s) and the page will load as expected.