Ad blocker interference detected!
Wikia is a free-to-use site that makes money from advertising. We have a modified experience for viewers using ad blockers

Wikia is not accessible if you've made further modifications. Remove the custom ad blocker rule(s) and the page will load as expected.
For the male protagonist of Resident Evil Zero, see
Billy Coen
.

Billy was a mercenary in the Umbrella Biohazard Countermeasure Service, and was sent into Raccoon City on September 26, 1998 to handle the t-Virus outbreak.
Gameplay
Billy's character skin can only be accessed through cheat devices such as GameSharks. He's a Kevin-type character and starts with a Recovery Pill in his inventory.
Billy has the following stats:
Relatively fast movement speed
Average Vitality (between 2000 and 2500 health)
Average attack power (similar to Mark's)
Fast infection rate (1.48% per minute)
Gallery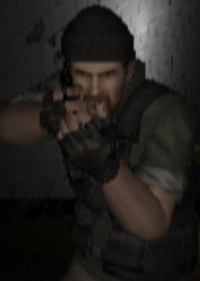 Sources