Real World article
(Written from a Production point of view)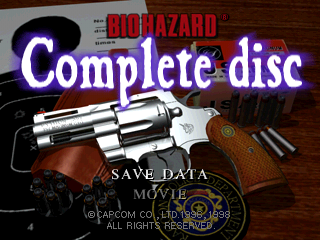 The Biohazard Complete Disc was a bonus disc material included with the Japanese release of Resident Evil: Director's Cut, known as "Biohazard Director's Cut" (バイオハザード ディレクターズカット, Baiohazādo direkutāzukatto?) in Japan.
It replaces the Resident Evil 2 demo included in the American release. The North American version was released as part of Sony's Greatest Hits line, but did not feature the bonus disc. However, several unused textures imply that an English released was planned at some point.
This disc allows the user to download save data for all versions of Biohazard and Biohazard 2 into their memory card and view footage from the prototype version of Biohazard 2 (BIOHAZARD 1.5).
External links
Edit
Ad blocker interference detected!
Wikia is a free-to-use site that makes money from advertising. We have a modified experience for viewers using ad blockers

Wikia is not accessible if you've made further modifications. Remove the custom ad blocker rule(s) and the page will load as expected.