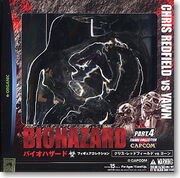 Biohazard Figure Collection: Chris Redfield vs. Yawn was a figurine set released in 2008 as "part 4" of the "Biohazard Figure Collection" series of commemorative figurines. Like others in this series, it depicts a familiar encounter from the 2002 remake of Resident Evil. In this product, the Yawn readies itself to swallow S.T.A.R.S. Alpha team member Chris Redfield, who prepares to defend himself with a Desert Eagle.
Ad blocker interference detected!
Wikia is a free-to-use site that makes money from advertising. We have a modified experience for viewers using ad blockers

Wikia is not accessible if you've made further modifications. Remove the custom ad blocker rule(s) and the page will load as expected.