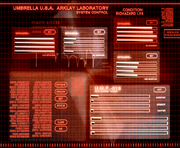 Not much is known about this Umbrella Biohazard contamination level.
There are three known occurrences, one being in the Arklay Laboratory during the Mansion Incident in 1998.[1]
Another one happened at the Umbrella Caucasus facility where over 90% of the research staff were "eliminated" (either infected from virus or killed at some point). In the Primary Contamination Zone, the survival rate was under 2%.
A "BL-4" contamination alarm went off in the Tricell facility underneath the ruins of the ancient Ndipaya Kingdom, BL-4 likely meant "Biohazard Level 4."
references:
↑ Resident Evil The Umbrella Chronicles, scene: Rebirth 1 opening
Ad blocker interference detected!
Wikia is a free-to-use site that makes money from advertising. We have a modified experience for viewers using ad blockers

Wikia is not accessible if you've made further modifications. Remove the custom ad blocker rule(s) and the page will load as expected.