Ad blocker interference detected!
Wikia is a free-to-use site that makes money from advertising. We have a modified experience for viewers using ad blockers

Wikia is not accessible if you've made further modifications. Remove the custom ad blocker rule(s) and the page will load as expected.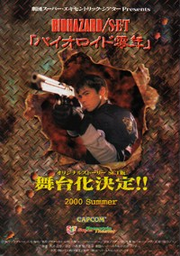 BIOHAZARD Year Zero (バイオロイド零年, Baioroido zeronen?), otherwise known as BIOHAZARD ZERO-NEN, is a Japanese stage play based on the Resident Evil franchise. A musical horror-comedy focusing on the zombified civilians' point-of-view, the play was performed by the Super Eccentric Theater ("SET") in a number of locations around Japan in the summer of 2000.[1]
Plot
Bioroid is set nine years after a viral outbreak in the secret research city "BioCity" (バイオシティ) led to the area being quarantined. The story revolves around the zombies living inside the quarantine zone.
Performances
A "preview" performance of the play was demonstrated at the Spring TGS 2000 event, as reported by Famitsu.[2]
The play was toured around Japan over July and August 2000, performed in seven cities: Tokyo; Hiroshima; Fukuoka; Nagoya; Sendai; Sapporo and Osaka.[3]
On July 23 it was performed at the Nagoya Civic Center (名古屋市民会館). It was performed in Sapporo on August 10. The final performance in the tour was at the Osaka Welfare Pension Hall (大阪厚生年金会館) on August 19. The hall has since been torn down to make way for the Orix Theater.
Sources
↑ Yukiyoshi Ike Sato (October 5, 1999). Biohazard Goes Broadway?. Gamespot. Retrieved on 2015-07-31.
↑ ちょっとオマヌケなSETの演劇版『バイオハザード』

(Japanese)

. Famitsu. Retrieved on 2015-08-06.
↑ SBG: NEWS - 本邦初の舞台化決定。2000年夏に公開!

(Japanese)

(October 7, 2000). Retrieved on 2015-07-31.
Resident Evil attractions
Japanese events

BIOHAZARD Nightmare

(Osaka, 1998-1999) ·

BIOHAZARD MIDNIGHT PARTY

(Tokyo, 1998) ·

Bioroid: Year Zero

(2000) ·

BIOHAZARD MUSEUM

(Kitakyūshū, 2001) ·

BIOHAZARD Nightmare

(Saitama, 2001) ·

Shock Labyrinth EX. × biohazard

(2007-2008) ·

Biohazard Cafe & Grill S.T.A.R.S.

(Tokyo, 2012-2013) ·

BIOHAZARD FESTIVAL

(Tokyo, 2013) ·

BIOHAZARD THE REAL

(Oksaka, 2013) ·

‎BIOHAZARD X Kawaba SURVIVAL GAME FIELD

(Gunma, 2014) ·

BIOHAZARD THE REAL 2

(Osaka, 2014) ·

BIOHAZARD THE ESCAPE

(2015) ·

BIOHAZARD THE REAL 3

(Osaka, 2015) ·

BIOHAZARD THE STAGE

(Tokyo, 2015) ·

SURVIVE of BIOHAZARD

(Sagamihara, 2016) ·

BIOHAZARD THE ESCAPE 2

(2016)

American events
Game shows