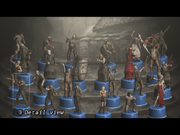 Bottlecaps are special "trophies" given to Leon by the Merchant. There are 4 rows, to which there are 4 stages at the Shooting Range minigame.
Bottlecap list
Stage C
Localized name
Japanese name
Translated name
Image
Merchant
武器商人
Gun Merchant
Zealot w/ Scythe
邪教徒(大カマ)
Cultist (Large Sickle)
Zealot w/ Shield
邪教徒(盾)
Cultist (Shield)
Zealot w/ Bowgun
邪教徒(ボーガン)
Cultist (Bowgun)
Leader Zealot
邪教徒(リーダー)
Cultist (Leader)
Don Pedro
村人(寄生体)
Villager (Parasite)
Stage D
Soldier w/ Dynamite
戦闘員(ダイナマイト)
Combatant (Dynamite)
Soldier w/ Stun-rod
戦闘員(スタンロッド)
Combatant (Stun Rod)
Soldier w/ Hammer
戦闘員(ハンマー)
Combatant (Hammer)
Isabel
女村人(バケツ)
Female Villager (Bucket)
Maria
女村人(包丁)
Female Villager (Kitchen Knife)
J.J.
ガトリング男
Gatling Man
After each row has been finished, the player will get large cash awards, listed below...
Row 1 - Game Type A: 15.000 Pesetas
Row 2 - Game Type B: 25.000 Pesetas

Row 3 - Game Type C: 35.000 Pesetas
Row 4 - Game Type D: 50.000 Pesetas
Ad blocker interference detected!
Wikia is a free-to-use site that makes money from advertising. We have a modified experience for viewers using ad blockers

Wikia is not accessible if you've made further modifications. Remove the custom ad blocker rule(s) and the page will load as expected.