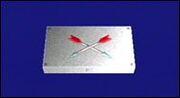 "This is gun powder for a bow gun arrow."

The Bow Gun Powder can be combined with bow gun arrows to make explosive bow-gun bolts. They are uncommon yet useful; only ten explosive arrows can be made at a time, but they can help take down certain creatures in less shots than it would require using a Handgun or regular Bowgun bolts.
Ad blocker interference detected!
Wikia is a free-to-use site that makes money from advertising. We have a modified experience for viewers using ad blockers

Wikia is not accessible if you've made further modifications. Remove the custom ad blocker rule(s) and the page will load as expected.