Ad blocker interference detected!
Wikia is a free-to-use site that makes money from advertising. We have a modified experience for viewers using ad blockers

Wikia is not accessible if you've made further modifications. Remove the custom ad blocker rule(s) and the page will load as expected.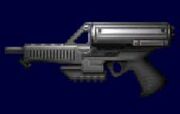 The Calico M950 was a weapon that was set to appear in
 Resident Evil 2
but was not featured in the final version of the game. However, certain pieces of information, such as its inventory icons, do exist, allowing some modders to re-add the weapon to the game
It can be acessed in the Gamecube version by hacking the Colt S.A.A. into Leon's       inventory.
Further Notes
Another Calico weapon that was featured in the final version of a game was the M-100P.
References
- http://www.x-cult.org/games/123/Resident_Evil_2/1535/Calico_950/