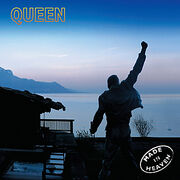 Made in Heaven is the name of the fifteenth studio album by British rock band, Queen. The album was released in 1995 using lead singer Freddy Mercury's music and recordings with the band prior to his death in 1991.
With Queen being "Big in Japan", Capcom took to referencing them in their early games. This album in particular has influenced the Resident Evil series, with some of its track titles being referenced in the games.
This category currently contains no pages or media.