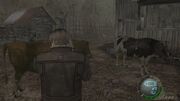 Cattle (Male: "Bull", Female: "Cow") were herded by the inhabitants of the village. They can be found in the Resident Evil 4 in the Village center and Farm areas.
Cattle remain stationary and nothing on their own. They can be killed but will drop no items. If damaged, they can attack Leon if he is standing in front of their horns (in at least the Japanese version, they deal 300 damage)[excerpt 1] however, they can only bring the player to 1 HP and not cause death.
Sources
excerpts
↑ Excerpt from biohazard 4 kaitaishinsho - revised edition, page 367:
"農場でそれぞれ見かけられる。ダメージを与えれば倒すことができるが、それによるメリットはとくにない。ウシのみ、攻撃して体カを減らしたらえで正面に立つと、反撃してくる(攻撃値:300)。"