Chris's Report (クリスの報告書, Kurisu no hōkoku-sho?) is a file that can be found only in the Nintendo 64 version of Resident Evil 2. An "Ex-file", it is listed as #FILE 14/16 in the game.
Location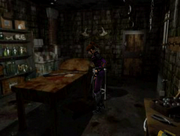 This file is found in the taxidermy room after Claire uncovers Irons' secret passage. In order for Leon to obtain the file, he must backtrack through the first waterway. This file is only present in the "B" scenario.

Transcript
#FILE 14/16
CHRIS'S REPORT

Dear Chief,
Below is my account of what led up to the explosion of the mansion:

On July 23, S.T.A.R.S. Bravo team, lead by Captain Marini, went to investigate the bizarre homicides that occurred in the Arklay Mountains. After contact with team's chopper was lost, S.T.A.R.S. Alpha team, lead by Captain Wesker went in.

We found the remains of Bravo team's helicopter on the ground. After landing we were immediately attacked by blood thirsty dogs. We later discovered that these dogs were actually zombie dogs as they did not even feel our gunfire. After Joseph Frost was killed, we were forced to retreat to a nearby mansion.

After further investigating the mansion, we learned that it was actually a secret laboratory of Umbrella Inc..

All researchers were turned into zombies by some type of unknown virus. We also discovered that Umbrella was using that lab as a testing area for new Bio Organic Weapons.

We found the dead bodies of some of the Bravo team members including Enrico Marini, Kenneth Sullivan, Forest Speyer, and Richard Aiken. We believe that those Bio Organic Weapons caused their deaths.

After that we discovered that Captain Wesker was actually working with Umbrella and that both Alpha and Bravo teams were being used as live test subjects for the Bio Organic Weapons. Wesker had betrayed us!

We barely managed to survive that nightmare. However, since the mansion exploded, there is no evidence to support our claims of Umbrella's secret lab or the Bio Organic Weapons.

The zombie phenomenon that has been occurring in the city is extremely similar to the zombies we saw at the mansion. We suspect that Umbrella is somehow linked to all this.

In order to solve this mystery and put an end to the zombies that are roaming the city, I propose we launch a formal investigation into Umbrella.

Thank you for your attention to this extremely important matter.

Chris Redfield
S.T.A.R.S. Alpha Team
アイアンズ署長殿

アークレイ山中で起きた、洋館の爆発事件につき、以下の通り報告します:

7月23日、原因不明の猟奇殺人事件を解明する為、マリーニ隊長が率いるS.T.A.R.S.所属のブラヴォーチームが出動したが、アークレイ山中にて、メンバーを乗せたヘリとの音信が途絶え、彼らとの連絡が取れなくなってしまった。

捜索の為、ウェスカー隊長率いるアルファチームが出動。森林地帯にて、ブラヴォーチームのものと思われる、墜落したヘリを発見した。

我々は現場に着陸し、捜査を開始しようとしたが、狂暴な犬達に襲われ、捜査は中断された。この犬達はゾンビ化して体が腐っており、我々の銃撃にひるむことなく攻撃してきた。

この襲撃により、ジョセフ・フロスト隊員が喉を噛み切られて死亡。我々は近くの洋館への非難を余儀なくされた。

洋館内を探索し、そこがアンブレラの研究施設だということが判明。アンブレラの開発した殺人ウィルスにより、館内の研究員は皆ゾンビ化してしまっていた。

更には、アンブレラにより開発された生物兵器の存在を多数確認。また、それらにより殺害されたと思われる、ブラヴォーチームメンバーのエンリコ・マリーニ、ケネス・サリバン、フォレスト・スパイヤー、リチャード・エイケンの死体を発見した。

更に探索を進めていくうちに、ウェスカー隊長とアンブレラとの癒着が発覚。すべてはウェスカーの仕掛けた罠だということが判明した。

我々はなんとか洋館を脱出することが出来たが、洋館が木っ端微塵に爆破してしまったため、事件に関する証拠は、残念ながら何も残っていない。

最近ラクーン市内で多発している原因不明の病気だが、我々が洋館内で目撃したゾンビ化現象と非常に酷似している。今回の事件にもアンブレラが何らかの形で関与している可能性が非常に高く、事件究明の為にも、早急にアンブレラ社に対して何らかの措置をとることを要求する。

S.T.A.R.S.アルファチーム
クリス・レッドフィールド
Gallery
Official English localization
Original Japanese script
Further notes
The official localization of this file suggests that Enrico Marini was killed by a B.O.W., which contradicts the events of the first Resident Evil.
In 2015, Crimson Head Elder collaborated with Chris' Resident Evil (remake) voice actor, Joe Whyte, to record him reading Chris's Report while in character.[1]
Sources