"A chain made to adore a god of time. There's a small screw hole near the ornament."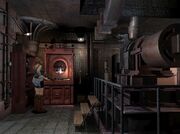 This item can be found in the music box after solving the puzzle in the Machine room. The only purpose of this item is to be combined with the Winder Key to create the Chronos Key. After combining, it will disappear.
Bibliography
Edit
Ad blocker interference detected!
Wikia is a free-to-use site that makes money from advertising. We have a modified experience for viewers using ad blockers

Wikia is not accessible if you've made further modifications. Remove the custom ad blocker rule(s) and the page will load as expected.