Bedroom (寝室?) is an area of the St. Michael Clock Tower.
Description
Edit
| | |
| --- | --- |
| | This section is empty. You can help out the Resident Evil Wiki by inserting the appropriate content here. |
This is the starting point after the arriving on the tram car, if Jill decides to jump from the window on the live selection screen. Two jars of Gun Powder A and two jars of Gun Powder B can be randomly found in this room. If they don't appear in this area, they will be in the Chapel. After passing some distance from the crashed tram car a cutscene will occur, where four zombies coming out from the fire and trying to attack the character.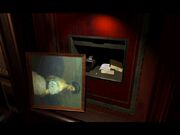 Also, a necessary key can be found in this room behind the picture. If this room is the starting point, than it'll be the
Winder Key
. And if the
Courtyard
are the starting point for Jill, than it'll be the
Bezel Key
.
When playing as Carlos, some monsters will re-appear here: another four Zombies or two Zombie Dogs.
| Location | Localization | Original Script |
| --- | --- | --- |
| The small shelf (After the Key is taken) | There's nothing more. | |
| The Drawers | Someone has made a mess inside the drawer. | |
Bibliography
Edit
Ad blocker interference detected!
Wikia is a free-to-use site that makes money from advertising. We have a modified experience for viewers using ad blockers

Wikia is not accessible if you've made further modifications. Remove the custom ad blocker rule(s) and the page will load as expected.