Fisson Street and Ennerdale street are crossing near the R.P.D. Jill Valentine sees many crashed cars on her way to the police station and some of them are blocking both streets.
Description
There's a broken hydrant that gushes the water near the Police station front entrance (the water stops when night falls to the city).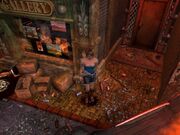 Guide
There's a simply locked door on the available part of the Fisson Street, so Jill needs the Lockpick in order to open it. Upon returning here during the quest for the Mixed Oil, Jill will encounter either a group of Zombies or a trio of Zombie Dogs.
In The Mercenaries - Operation: Mad Jackal, a flock of Crows will be encountered in this area.
Examines
| Location | Localization | Original Script |
| --- | --- | --- |
| Checking the broken hydrant | Water is gushing out from a broken hydrant. | |
| Checking the broken hydrant (After the water stop gushing out) | The hydrant is broken. | |
| Advertisement on the streets | New release information. | |
| Door toward the Long Corridor (Without the Lockpick) | It's locked with a simple lock. | |
Gallery
Backgrounds
Sources