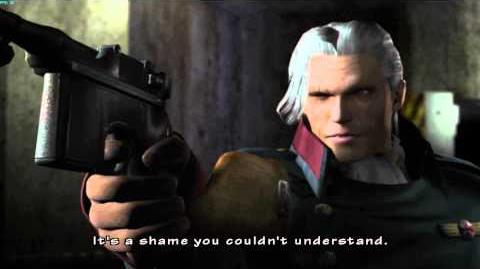 The Dark Legacy 1 scene 2 is the the cutscene that plays in first part of the "Dark Legacy" Act of Resident Evil: The Umbrella Chronicles.
Transcript
Vladimir: Comrade Wesker. Welcome to my humble abode.

Colonel Vladimir Sergei
Umbrella Officer

Wesker: I see you are still resolved to go down with the ship, Colonel.

Vladimir: Umbrella's not going anywhere.
All of the pain, the punishment, and the difficulties help to make Umbrella stronger.
It's a shame you couldn't understand.

Wesker: Stand aside.

Vladimir: Oh, I almost forgot. Here are a few of my old friends I'd like to introduce you to.

Wesker: Charmed.

Vladimir: Russia's such a peaceful place, don't you agree? A perfect place for your final resting spot.
The original Japanese transcript for this file is not yet present. Please add it.