"By blowing into it, it generates frequencies only audible to the ears of dogs. You can call a dog with this whistle."
— Item examination
It can be used on the West terrace to call two cerberuses, one of which is carrying a replica of the Armor Key in its collar. A crumpled memo is found lying near the whistle, which explains how to use it. Once your character uses the whistle, they are given the option to discard it as they return inside.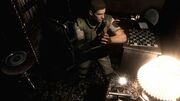 The dog whistle is found in the 2F east study of the
Spencer Mansion
.
Bibliography
Edit
Resident Evil-specific items
Weapons
Defense items
Ammunition

Mansion
Courtyard
Dormitory
Laboratory

Recovery items
Key items
Other items
Ad blocker interference detected!
Wikia is a free-to-use site that makes money from advertising. We have a modified experience for viewers using ad blockers

Wikia is not accessible if you've made further modifications. Remove the custom ad blocker rule(s) and the page will load as expected.