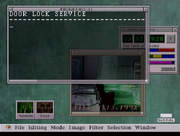 The Door Lock Service is a computer program used in the Raccoon City Police Department. The service maintains the electronic locks on doors in the precinct.
In Resident Evil 2, the service can be accessed from the computer in the main hall after obtaining the Blue Card Key. During the "A" scenario, the doors to the west wing's reception desk and east wing's lobby are unlocked with the service. The library is also unlocked with the service in the "B" scenario.
Location
Localization
Original script
Service
DOOR LOCK SERVICE
"ドアロックサービス"
Hall side doors:

LOCKED

"ホールのドア
ロック中"
The doors can be unlocked by a

CARD KEY

.
"カードキーでドアのロックを解除できます"
With Blue Card Key
Will you use the

Blue Card Key

? Yes/No

ブルーカードキー

を使いますか? Yes/No
Yes
Checking up ID CARD....
"カードチェック中・・・"
OK!
Hall side doors lock released.
"ロックが解除されました"
After being unlocked
DOOR LOCK SERVICE
"ドアロックサービス"
Hall side doors:

RELEASED

"ホールのドア
ロック解除"
Further notes
Edit
Ad blocker interference detected!
Wikia is a free-to-use site that makes money from advertising. We have a modified experience for viewers using ad blockers

Wikia is not accessible if you've made further modifications. Remove the custom ad blocker rule(s) and the page will load as expected.