The city hall (市役所?) is an area of Downtown Raccoon City featured in Resident Evil 3: Nemesis.
Description
| | |
| --- | --- |
| | This section is empty. You can help out the Resident Evil Wiki by adding to it. |
Guide
When Jill enters here for the first time, there's no Zombies in this area. But when returning to this point after collecting the Wrench, a stucked door will open and five zombies will attack Jill. This door also leads to the Mayor's statue, which is holding the Bronze Book. After taking it, the Future Compass can be set to the statue's hand and after that the Battery can be obtained. Three Green Herbs can randomly appear near the statue, if they didn't at the Back alley.
After re-entering this place from the side of the Warren Street, two additional zombies will break out of the windows of Hall.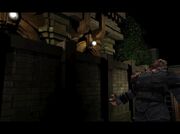 Once Jill have all the items for getting the cable car to work, Nemesis will find her here. The best price for beating him here is M37 Parts B.
In the Mercenaries - Operation: Mad Jackal, zombies are present in this area as enemies.
Examines
| Location | Action | Localization | Original Script |
| --- | --- | --- | --- |
| The door toward Mayor's Statue | CHECK | The door is stuck from the other side and won't open. | |
| Mayor's Statue (After the Bronze Book is taken) | CHECK | A bronze statue of Raccoon City Mayor, Micheal Warren. It can hold something in its hand. | |
| Mayor's Statue (After taking the battery) | CHECK | There's nothing more. | |
Gallery
Bibliography
Sources