The Newspaper building (新聞社ビル?) is an area of Downtown Raccoon City.
Description
Edit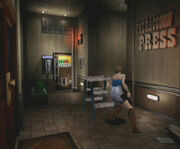 The Raccoon Press was a newspaper service on Warren Street in Raccoon City popular enough to carry an evening issue.[1] Its office building was heavily damaged in the infamous t-Virus outbreak, with the majority of it on fire on September 28. Its reporters were covering the outbreak and quarantine of the city.[2]
During the events of Resident Evil 3, Jill travels into the building while investigating the downtown area of Raccoon City. When she first enters the building, a fire shutter is blocking the stairs to the upper level of the complex. She is able to raise the fire shutters by pressing a button in a panel at the top of a vending machine. In the upper floor of the building, the fire has consumed the stairway and parts of the second floor.
| Location | Localization | Original Script |
| --- | --- | --- |
| The power switch (After it's switch on) | The power has been restored. | |
Bibliography
Edit
Ad blocker interference detected!
Wikia is a free-to-use site that makes money from advertising. We have a modified experience for viewers using ad blockers

Wikia is not accessible if you've made further modifications. Remove the custom ad blocker rule(s) and the page will load as expected.