Ad blocker interference detected!
Wikia is a free-to-use site that makes money from advertising. We have a modified experience for viewers using ad blockers

Wikia is not accessible if you've made further modifications. Remove the custom ad blocker rule(s) and the page will load as expected.
Mainstream universe
(Capcom's primary storyline)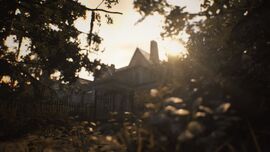 The
Dulvey Haunted House
is a reputedly haunted farmhouse in
Dulvey
, Louisiana, in the United States of America. The property was owned by
Jack
and
Marguerite Baker
until their disappearance from community life in 2014, after which it was considered abandoned.
History
The house was abruptly abandoned when the Bakers went missing, prompting an investigation into their disappearance. When the investigation found no evidence that would lead them to the Bakers, it became a cold case and the house left abandoned.Sewer Gators paranormal TV show.
In the years following, noises heard emanating from the property spawned rumors of it being haunted, prompting an investigation by the
Layout
1F
Level 1F consists of a living room and a kitchen-cum-dining room.
2F
The second floor consists of a hallway, which bends to the right. It also has a switch, which lowers the staircase to the third floor, when the fuse is inserted and pressed. In the left hand corner of the room, near the staircase to the first floor, there are three mannequins, which will turn towards the player when not looked at. This event is required for one of the three unique phone call endings, whilst avoiding it is required for another.
3F
Level 3F consists of an attic where a number of mannequins are stored.
Gallery
Sources