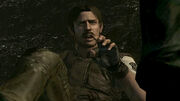 Enrico's keepsake is an article in Resident Evil Recollections. It was uploaded on 12 December 2014.
Transcript
Edit
Unlike the items dropped by other characters, you need Enrico's to be able to continue.

You might have expected another special weapon from the captain of Bravo team, but to be fair he had made it further than anybody else at that point.

If he hadn't been stopped chances are he would have been able to go even further...
External links
Edit
Recollections articles

2014 Articles
2015 Articles

January
February
March
April
May
June
July
August
September
October
November
December

2016 Articles
2017 Articles
Ad blocker interference detected!
Wikia is a free-to-use site that makes money from advertising. We have a modified experience for viewers using ad blockers

Wikia is not accessible if you've made further modifications. Remove the custom ad blocker rule(s) and the page will load as expected.