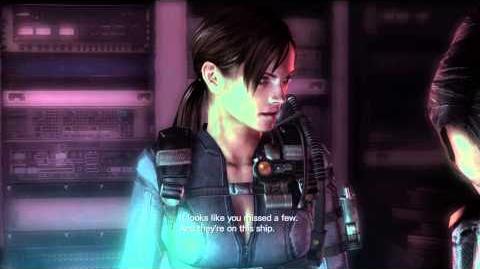 The Episode 4-1 opening (tentative) is the opening cutscene to "A Nightmare Revisited", the fourth episode of Resident Evil: Revelations.
| | |
| --- | --- |
| | This section is empty. You can help out the Resident Evil Wiki by inserting the appropriate content here. |
Transcript
Edit
9:28 P.M.
Emergency Communication Room

Norman: "We are Veltro, vengeful messengers from the depths of the inferno."
Parker: "Damn terrorists!"
Raymond: "We killed these bastards already."
Jill: "It looks like you missed a few. And they're on this ship."
Parker: "And now they want to use the virus to stage another attack?"
Raymond: "They seek the truth about Terragrigia... and vengeance."
The original Japanese transcript for this file is not yet present. Please add it.