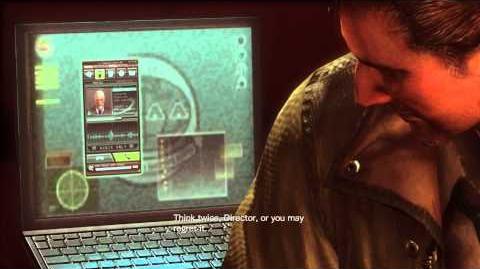 The Episode 8-1 opening (tentative) is the opening cutscene to "All on the Line", the eighth episode of Resident Evil: Revelations.
| | |
| --- | --- |
| | This section is empty. You can help out the Resident Evil Wiki by inserting the appropriate content here. |
Transcript
Edit
Morgan Lansdale (phone): "Immediate containment is imperative. Far too much is at stake here. You are blinded. A humanist with no cause. It's a lost cause, Director O'Brian."
O'Brian: "Feel free to cut the bullshit, Morgan. You're playing with fire again. But this time you will get burned."
Morgan (phone): "Loose ends can only exacerbate the situation. Think twice, director, or you may regret it."
O'Brian: "Boy, you never disappoint, Morgan. But once we have the truth, your mistakes will never be repeated."

---
Jill Valentine: "Parker!"
Parker Luciani: "Yeah, time to clear out."
The original Japanese transcript for this file is not yet present. Please add it.