| | |
| --- | --- |
| | This section is not intended for generic trivia - defined here. It is only a placeholder for notable information not yet placed into other sections. |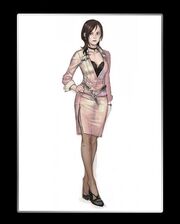 In the concept art of Resident Evil 5, Excella is shown wearing a pink business suit with her hair let down, different from her persona in the final build. Furthermore, the Excella-Uroboros Aheri transformation was to be completely averted: originally, she was going to die at the literal hands of a Tyrant-esque creature, as evidenced by official artwork.
Originally Excella was planned to be a secretary working for Tricell, but the creators decided to make her the CEO of the company instead.
Excella's age in The Mercenaries Reunion is listed as a "trade secret".