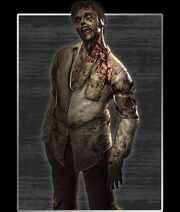 FILE:01 Zombie (FILE:03 ゾンビ(t-ウイルス)?) is a file in the CLUB96 "digital archive". It was uploaded on May 26, 2012, and members of the fanclub can access it here. A localization was made for RE.NET, and can be found here.
Transcript
Edit
Description:
Zombies are humans resurrected from the dead, mostly due to T-Virus infection. Symptoms of the T-Virus include mutation and progressive skin decay. They are known as "Zombies" due to their grotesque, corpse-like appearance. They wander in search of human flesh, their only source of nutrition, as they constantly require vast amounts of energy to sustain the sudden increase in metabolic demand. Although small amounts of damage will not deter a Zombie, they can be terminated by destroying the head.

Notes:
The Zombies featured in RE1 are among the most well-known, but there are many different types of Zombie such as the Zombie cops and the "sexy" tank top-wearing Zombie girls in RE2. Characters like Edward, Forest, and Brad from S.T.A.R.S. are also zombified. Steve, in Code Veronica, is tragically forced to gun down his own zombified father in perhaps what is one of the most emotional scenes in the series.
主に「t-ウイルス」の影響で突然変異化し、皮膚の腐敗が進行した人間。その醜悪な外見から"生ける屍"という意味を込めて「ゾンビ」と呼ばれる。急激な新陳代謝により、常に膨大なエネルギー供給を必要とするため、その供給源を求め、徘徊、人を襲い人肉を喰らう。多少のダメージではその行動を止めることはできないが、頭部の破壊でその行動に終止符を打つことができる。

---
ゲームでは?
ゾンビと言えば「1」に登場したプレイヤーが近付くと振り向くゾンビが印象深いが、それ以外にも様々なタイプがいる。「2」では警官ゾンビだけではなく、タンクトップ姿が艶めかしい女性ゾンビも登場する。S.T.A.R.S.のエドワード、フォレスト、ブラッドなど特定の人物がゾンビ化する場合もある。その中でも一番印象深いのは「CV」で登場したスティーブの父親だろう。スティーブが父親に銃弾を撃ち込むシーンは胸が詰まる。
Ad blocker interference detected!
Wikia is a free-to-use site that makes money from advertising. We have a modified experience for viewers using ad blockers

Wikia is not accessible if you've made further modifications. Remove the custom ad blocker rule(s) and the page will load as expected.