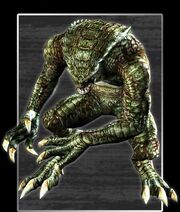 FILE:02 Hunter (FILE:02 ハンター(t-ウイルス)?) is a file in the CLUB96 "digital archive". It was uploaded on June 3, 2012, and members of the fanclub can access it here. It was also localized for RE.NET, and can be found here.
The localization was altered in the "Notes" section, replacing "Mansion Dormitory" with "Guardhouse". While Resident Evil does refer to the dormitory building as the "Guardhouse" in the English version, this was replaced with "Residence" in the 2002 remake.
Transcript
Edit
Description:
A combat B.O.W. with scale-like skin and long, razor-sharp claws, created by exploiting the T-Virus to cross reptilian and other DNA with a fertilized human ovum. While Zombies are the result of unintentional T-Virus infection, the aptly-named Hunter was specifically engineered and ruthlessly tracks down its target with its superior strength and incredible agility.

Notes:
The Hunter's oppressive presence has been a staple of the series since RE1 when the very first Hunter appeared when the player was returning to the Mansion from the Guardhouse. They have been relentlessly pursuing players ever since then, and their notoriety as one of the tougher enemies is well deserved. Who knows how many players have fallen victim to a Hunter's long claws while trying to slip past one as if it were just a Zombie. As might be expected of a weapons research project, a variety of Hunters were eventually developed, including the Hunter α, Hunter β, and Hunter γ, each with their own individual characteristics.
全身がウロコのような皮膚で覆われ、長く鋭い爪を持つ戦闘型B.O.W.。人間の受精卵をベースに、爬虫類などのDNAをt-ウイルスの力で掛け合わせることで誕生した。ゾンビがt-ウィルスにより自然発生的に生まれたのに対し、ハンターは兵器として開発された点が大きく異なる。そのため戦闘力はゾンビ以上に高く、驚異的な敏捷性と跳躍力で目標を追尾。相手を確実に追い詰めて仕留めるその姿は、狩人(ハンター)そのものである。

---
ゲームでは?

「1」で寄宿舎から洋館へ戻ってくると出現するハンター。その登場時のムービーから目にとまらぬ素早さと圧迫感でプレイヤーを追い詰める、まさに「強敵」と呼ぶにふさわしいクリーチャーである。ゾンビのように横をすり抜けようとして、その長い爪の餌食になったプレイヤーは数知れないだろう。ちなみに、ハンターは兵器として開発されただけあり、α、β、γと様々な種類がいる。それぞれに個性的な特徴を持つ敵でもある。