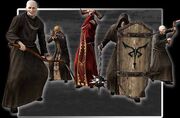 FILE:04 Ganado (Cultist) (FILE:04 ガナード(邪教徒)?) is a file in the CLUB96 "digital archive". It was uploaded on June 17, 2012, and members of the fanclub can access it here. It was localized by RE.NET, and can be found here.
Transcript
Edit
Description:
Ganados are humans implanted with and controlled by Plagas, parasites that were formerly confined beneath Salazar Castle. While the humans implanted with Plagas lose the ability to reason independently once the parasite has latched onto their central nervous system, they retain their intelligence and are able to communicate with and understand one another. The type of Ganado that develops after implantation depends on the human host—these particular Ganados are adherents of the cult of Los Illuminados.

Notes:
Ganados are intelligent, which clearly distinguishes them from Zombies, who obey only the most rudimentary of survival instincts. Being screamed at in a human language—even one that's incomprehensible—results in a kind of fear that's entirely different from that which is experienced when facing Zombies. Incidentally, the Ganados speak in Spanish, and all of their lines actually mean something—finding out what can be an enlightening experience to say the least...
サラザール城の地下に封印されていた寄生体「プラーガ」。このプラーガに寄生され、行動を支配された人間がガナードである。中枢神経に同化した寄生体により理性を奪われているが、知能は残しているため互いに言葉を交わして意思の疎通をすることが可能だ。ガナードにはそのとりついた人間により数種類が存在するが、上記のタイプはロス・イルミナドス教団の教徒にプラーガが寄生し、ガナード化したものである。

---
ゲームでは?

知性を有する。生存本能のみに従うゾンビとガナードの決定的な差は、そこにあるといえるだろう。ゲーム中、意味不明ながらも人の言葉を叫びながら襲ってくる姿は、ゾンビとは全く異質の恐怖を感じさせる。ちなみにガナード達の言葉はスペイン語で、それぞれにちゃんとした意味がある。意味を調べてみるのも面白いだろう。