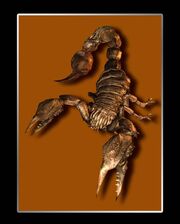 FILE:09 Zombie (FILE:09 スティンガー?) is a file in the CLUB96 "digital archive". Members of the fanclub can access it here. It was localized by RE.NET, here.
Transcript
Description:
The Stinger is the final B.O.W. form of a scorpion that has undergone incredibly rapid growth due to T-Virus administration. While the virus causes the total body length to grow to around three meters, exoskeleton reinforcement, and pincers hard enough to slice through steel, the characteristic scorpion tail stinger produces no venom, and there is still much room for improvement as a B.O.W. Due to a defect in the carapace, attacking the head reveals the brittleness of the surrounding exoskeleton.

Notes:
The Stinger makes its appearance on the second-floor drawing room aboard the luxury European-style train Ecliptic Express. The combination of the cramped train carriage and the Stinger's huge size inevitably results in most attacks being directed at its head, and its weak point being exposed. In a way, one might even feel sorry for the Stinger: had the battle taken place in a wider area such as a field, it might have had more of a chance, and it would have provided the player with more of a challenge.
t-ウィルスを投与されたサソリが驚異的な速さで巨大化して完成したB.O.W.。全長はハサミを含めると3メートル近くもあり、ウィルスの影響で外骨格は硬質に進化している。ハサミも鉄を切断できるほど硬いが、サソリ特有の尾針からの毒の注入能力がないなど、B.O.W.としての完成度は決して高いとは言えない。また、頭部の外骨格が不完全なため、ここを攻撃すると意外ともろいと言う弱点も併せ持つ。

---
ゲームでは?

欧州風の豪奢な車両を誇る「黄道特急」。その二階サロンで出現するのが、このスティンガーである。狭い車内に無理やりその巨体を押し込めているために、どうしても弱点である頭部をプレイヤーにさらすことになってしまう。活躍の場が広いフィールドであれば、もう少しプレイヤーを苦しめることができたかもしれない。少しかわいそうな敵と言えるだろう。
Ad blocker interference detected!
Wikia is a free-to-use site that makes money from advertising. We have a modified experience for viewers using ad blockers

Wikia is not accessible if you've made further modifications. Remove the custom ad blocker rule(s) and the page will load as expected.