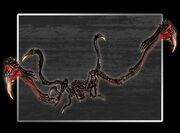 FILE:10 U-8 is a file in the CLUB96 "digital archive". Members of the fanclub can access it here. It was localized by RE.NET, here.
Transcript
Description:
One of the B.O.W.s created by the Plaga weapon development project. It features a massive armored carapace some tens of meters long, essentially a weapon in and of itself, and three-meter long claws, which it uses in close combat to devastating effect. The ventral area, in nature used for incubation, houses aerial B.O.W. drones. While these are understandably often mistaken for a larval form of the U-8, they are actually a completely separate B.O.W. species.

Notes:
Much like the previously introduced Stinger, and in what seems to be the fate of all armored B.O.W.s, the U-8 also suffers from a weak point in its carapace. According to an in-game file, an improved version of the U-8 with a fully formed carapace known as the U-8 Prime was also produced, but it fails to make an appearance in the game itself. During development yet another version of the U-8 known as the U-8 Turbo was planned. This version would forgo armor altogether in favor of speed, but ultimately it was never even mentioned in the game, not even in the game files.
プラーガを利用した兵器開発プロジェクトで生み出されたB.O.W.の一種。強固な甲殻装甲を持ち、全長数十メートルに及ぶ体躯を誇る。その巨体はそれ自体が一つの武器と言え、特に3メートルを越える巨大鋏脚は、白兵戦で絶大な効果を発揮する。また、U-8は、本来抱卵のために使用される腹部分に、飛行型B.O.W.を共生させている。この飛行型B.O.W.は、その収納部分からU-8の幼生と勘違いされることがあるが、全く別種のB.O.W.である。

---
ゲームでは?

強固な甲殻を持つB.O.W.の宿命なのか、前に紹介した『スティンガー』同様、U-8もその甲殻装甲が一部欠損しているところがあり、そこが弱点となっている。ちなみに、ゲーム中のファイルにはこの弱点がカバーされた「U-8′(ダッシュ)」も存在するとあるが、ゲーム中には登場していない。さらには、その甲殻装甲を犠牲にしてスピードを重視した「U-8ターボ」と呼ばれるバージョンも設定上存在していたが、これはゲーム中のファイルにも載っていない。
Ad blocker interference detected!
Wikia is a free-to-use site that makes money from advertising. We have a modified experience for viewers using ad blockers

Wikia is not accessible if you've made further modifications. Remove the custom ad blocker rule(s) and the page will load as expected.