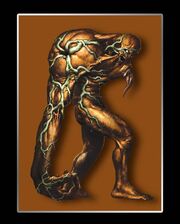 FILE:11 Bandersnatch (FILE:11 バンダースナッチ?) is a file in the CLUB96 "digital archive". Members of the fanclub can access it here. It was localized by RE.NET, and can be found here.
Transcript
Edit
Description:
A human-derived prototype B.O.W., developed as a more general-purpose Tyrant by placing particular emphasis on practicality rather than attempting to produce the perfect weapon. Its most distinguishing feature is its ability to extend its flexible right arm almost instantaneously, a trait hitherto unseen in humanoid B.O.W.s. While this grants the Bandersnatch certain advantages when pursuing its target, it nevertheless suffers from decreased mobility due to atrophy of the lower limbs, which in turn has an impact on its suitability for rapid deployment.

Notes:
Although the size of its right arm may remind you of William Birkin after he infected himself with the G-Virus, the Bandersnatch is more aggressive. Its arm can be used not only for attacks, but also to move between entire floors. Running up a flight of stairs might fool most creatures, but the Bandersnatch stops at nothing. While this may seem obvious, its powerful arm can only attack the right hand side, and its left arm is virtually useless, so approaching from the left is the smart choice when taking on a Bandersnatch.
人間をベースにした新型B.O.W.の試作タイプ。汎用性を高めたタイラントというコンセプトで開発が進められ、兵器としての完成度よりも実用面を重視した設計がなされている。大きな特徴としては、伸縮自在の右腕による瞬発移動が挙げられる。これは、従来の人型B.O.W.にはなかった能力で、目標の追跡に大きな効果をもたらすが、反面、下半身の退化のため歩行機能は低下しており、即応能力にかける点は否めない。

---
ゲームでは?

その巨大な右腕は、G-ウィルスに感染したウィリアム・バーキンを思い出させるが、バンダースナッチはそれ以上にアクティブだ。その長い腕は攻撃だけにとどまらず、階層を移動するのにも使われる。他のクリーチャーのように階段を上って逃げ切ったと思っていたら、いきなり追ってくるのだ。ただし、その強力な右腕も、当然だが右側しか攻撃できない。反対の左腕はほとんど無いので、相手にする際は左側に回り込んで攻撃しよう。