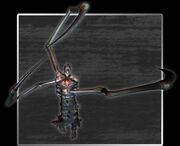 FILE:12 Nosferatu (FILE:12 ノスフェラトゥ?) is a file in the CLUB96 "digital archive". Members of the fanclub can access it here. It was localized by RE.NET in October 2013, and can be found here.
Transcript
Edit
Description:
What was once Alexander, the sixth head of the Ashford family. Alexander mutated into a brutal monster after failing to assimilate the T-Veronica virus administered by his own daughter, Alexia. The virus induced tentacle growth and caused the heart to be exposed through the ribs. Venom is also produced inside the body and reacts with oxygen to produce a toxic fog. Nosferatu's lethal nature resulted in it being confined beneath the Antarctic Base for fifteen years.

Notes:
Considering how much of the plot revolves around family relations—for example, Alexia using her father as a Guinea pig, Steve being forced to kill his own father, Chris attempting to rescue his sister Claire, and Alfred suffering from a twisted complex about his sister Alexia—"family" could well be considered the sub-theme permeating Code Veronica. Try playing the game once more while keeping this in mind, and you may see some things in a different light.
アシュフォード家第6代当主、アレクサンダーのなれの果て。娘アレクシアの手により「t-Veronica」を投与され、ウィルスと共生できないために凶暴なモンスターへと変貌を遂げた。ウィルスの影響で体から触手が生えており、心臓はろっ骨を突き破って胸部に露出。体内で生成された毒液は、酸素に触れると毒霧に変化する性質を持っている。その危険性から、15年前から南極研究所の地下独房に監禁されていた。

---
ゲームでは?

父アレクサンダーを実験台として使った娘アレクシア。ゾンビ化した父を殺さざるをえなかったスティーブ。妹クレアを救出するために行動する兄クリス。妹アレクシアに歪んだコンプレックスを持つ兄アルフレッド。コード:ベロニカでは様々な家族関係が描かれている。本作のシナリオに隠された裏テーマは「家族」かもしれない。そういう視点で、今一度プレイしてみるのはどうだろうか。また新しいコード:ベロニカ像が生まれるかもしれない。